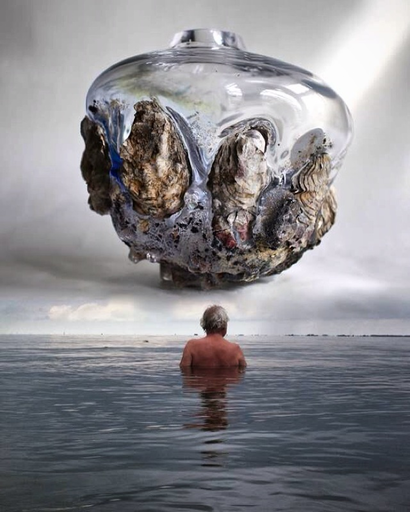 New Glass Now opens @Toyama Glass Art Museum on the 16th of July 2022.
New Glass Now premiere at The Corning Museum of Glass (USA) in 2019. This international exhibition of contemporary glass art follows the "New Glass: A World Wide Survey" exhibition of 1979 , when the annual publication New Glass Review was launched.
"Uniting the various forms New Glass has taken is a democratic curatorial model made up of an open, international call for submissions, responses from artists around the world, and the transparent selections of a panel of diverse thought leaders in art, craft, and design. The glass that is selected is representative of the concerns of its time as well as the individual aesthetics and perspectives of the selectors."
I'm very pleased to share "Zeeuws Licht no.1"
New Glass Now can be viewed at the Toyama Glass Art Museum, Toyama City, Japan from 16 July till 16 October 2022 and is generously supported by:
The U.S. Consulate General Osaka-Kobe, THE KITANIPPON SHIMBUN,
THE TOYAMA SHIMBUN, Kitanihon Broadcasting Co., Ltd.,
TOYAMA TELEVISION BROADCASTING CO., LTD., TULIP-TV INC.
Very proud to have my work in Toyama Glass Art Museum in Japan.
from july-october 2022 in Cooperation with Corning Museum Of Glass :New Glass Now
____________________________________________________________
Showing my glass @Salone del Mobile @Studio Piet Boon
Datum: 7-12 juni 2022
Tijd: 9:30 – 18:30
HAL 7 STAND F19
Fiera Milano RHO, Milaan
_________________\\\\_______________

Very proud to have my work "Zeeuws Licht no.1" in the Smithsonian American Art Museum and Renwick Gallery OCTOBER 22, 2021 — MARCH 6, 2022 NEW GLASS NOW
Thank you to @corningmuseum Susie Silbert and @smithsonianamericanartmuseum for this amazing showcase!
In Villa Darte november 2021

High Tide, new work, august 2021
I try to express the fragility of the landscape. A unity with ourselves.
As part of the landscape. We are the landscape.
I want to give it something human, something tangible, something enlightening, something that calls for tenderness, for affection, for touch and for cherishing.
Feelings that I also experience in the silence of the landscape.
In the daily noise and fast-paced economy,
I sometimes lose it, and can pick it up again through this work.
I translate what I see and experience and try to do so as purely as possible.
That is my duty to extract the highest possible value from it and to transform it into form, into glass.It develops with time and will therefore always change.
Sometimes I come very close, that is very special, it opens your heart and you are touched. And sometimes it is a way to it.
ZEELAND Magazine
november 2020
In the glossy Zeeland magazine there is a beautiful report about my work. Thanks to Nelleke Launspach and her team!
The Zeeland Magazines focuses on everything the province of Zeeland has to offer in the field of culinary and lifestyle. On a high level!
There is plenty of attention for the many excellent restaurants including those that have been awarded with a Michelin star. The delicious salty and sweet products are also featured. Oysters, Eastern Scheldt lobster, fish, shrimps, Eastern Scheldt eel, pré salé lambs, bread, chocolates, cherries, plums, apples, pears, sea lavender and marsh samphire, not to mention the excellent wines from Zeeland soil. Zeeland magazine also makes reports about Zeeland abroad, striking houses and gardens, books, art and everything else that makes this province so special.
Zeeland magazine exists since 2010 and is published twice a year, in spring and autumn.
10.05: high tide.
Nobody seems to be awake yet,
I cycle and swim and pick flowers in the Oosterscheldeestuary.
God sprinkled seaweed last night.
Veiled Oosterschelde.
Everything in just one moment.
Everything in the here and now.
I don't have to make anything anymore,
just a picture, to find
what had already fallen into my lap.

Zeeuws Licht no.14
Foto: Johan Kole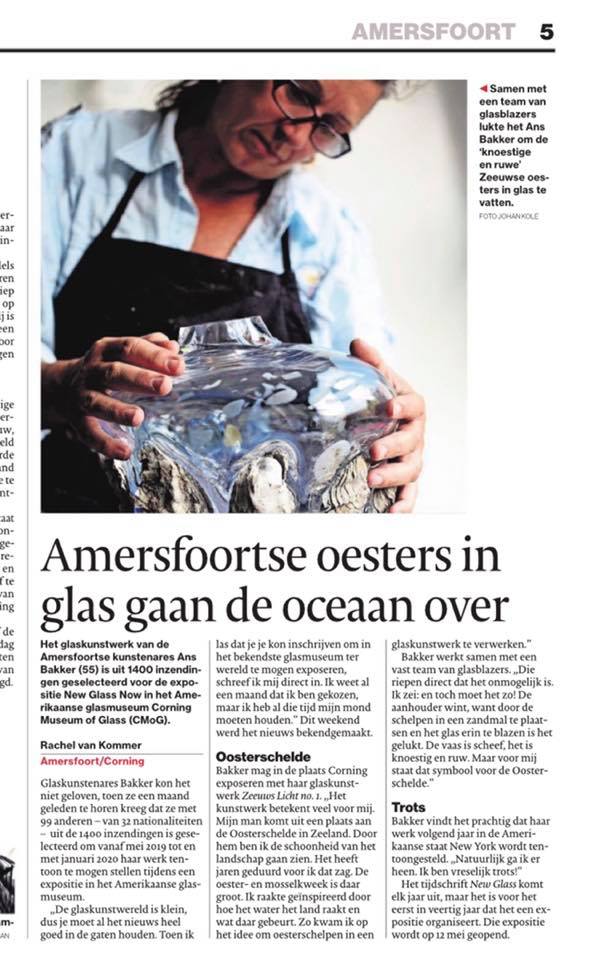 I am delighted to have been selected for the upcoming publication and exhibition at the
Corning Museum of Glass, Corning, New York
What a great view and miracle! "Zeeuws Licht no 1"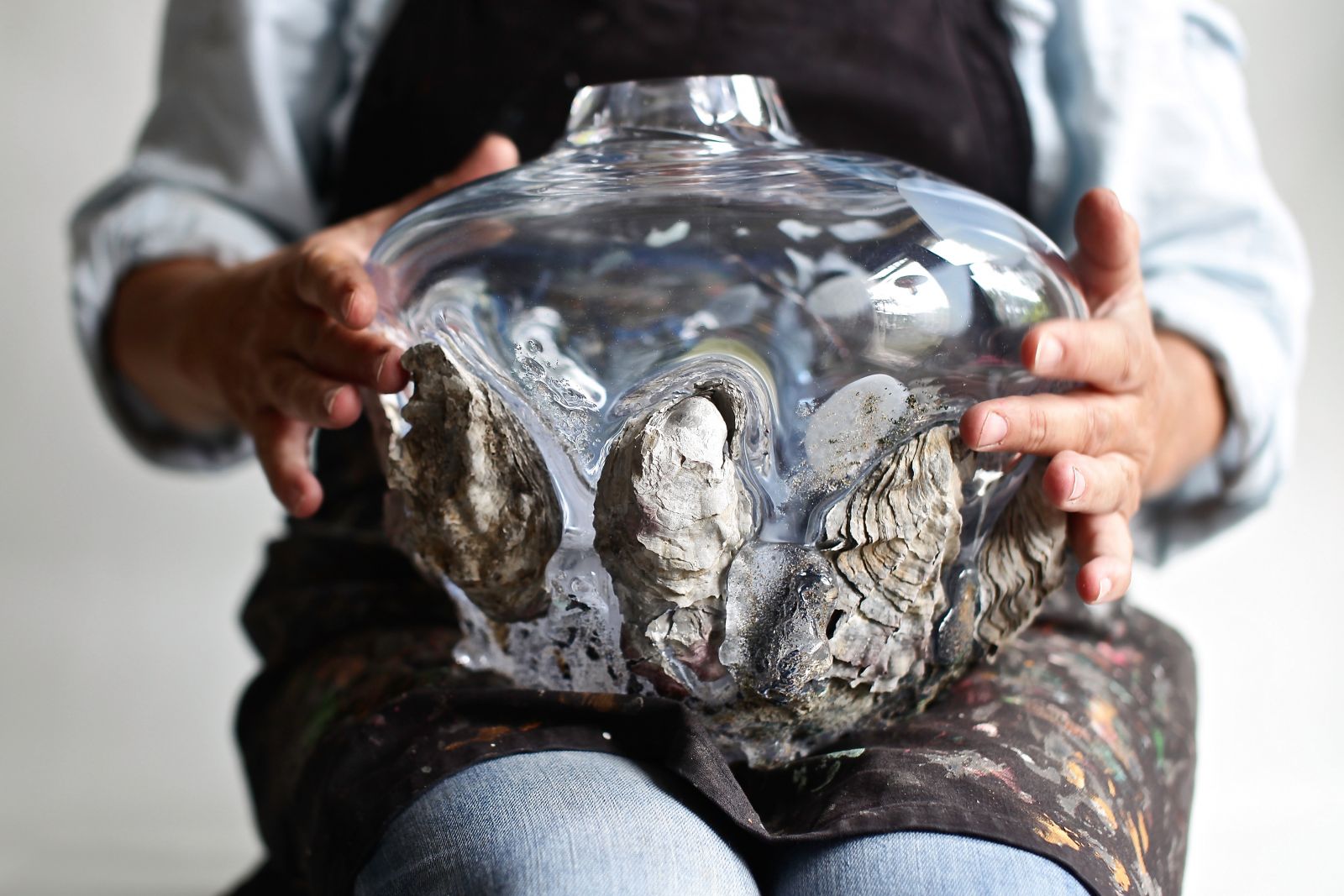 Ans Bakker
The Netherlands, b. 1963
Zeeuws Licht no. 1
The Netherlands, Amsterdam, 2017
Glass blown in sand molds
26 x 27 x 27 cm
Photo: Johan Kole
____________________________________________

Dahlia
"forever Yours" Galerie De Ploegh 2-30 september 2018
The worship and decay are my starting points for this Dahlia exhibition.
Objects of glass wood and wax form spatial flower collages, decay and memories. The theme evoked images from the past, where I saw them in the farm gardens, it was always summer and Sunday and time stood still.
"The shape of the Dahlia is terribly perfect, but if I let them die, the beauty really comes to life"
Many years ago I took many photos of the Dahlias near my studio, in the Soesterkwartier Amersfoort. The most beautiful Dahlias "in decline" I got from the compost hope. Beautiful in full bloom Dahlias that I took to my studio and outside to let them slowly dismantle their beauty. This beauty of decay struck me enormously. The colors fade and the shape becomes unbalanced.
The wildness, the incredibly many petals, the fleshy stems and fat full bulbs have something human. Flesh, decay, moisture and the rotting process of the discolouring Dahlias I tried to capture in the glass and wax models
For the glass technique casting and pâte de verre, you first make wax models to then pour them into plaster, steam, fill with glass, heat hot and cool down again. Sometimes these wax models are too good to melt so I process them directly.

Flower and lime find salt roads,
in the wonderful water.
Small creation that I contribute to today,
never before.
Ans Bakker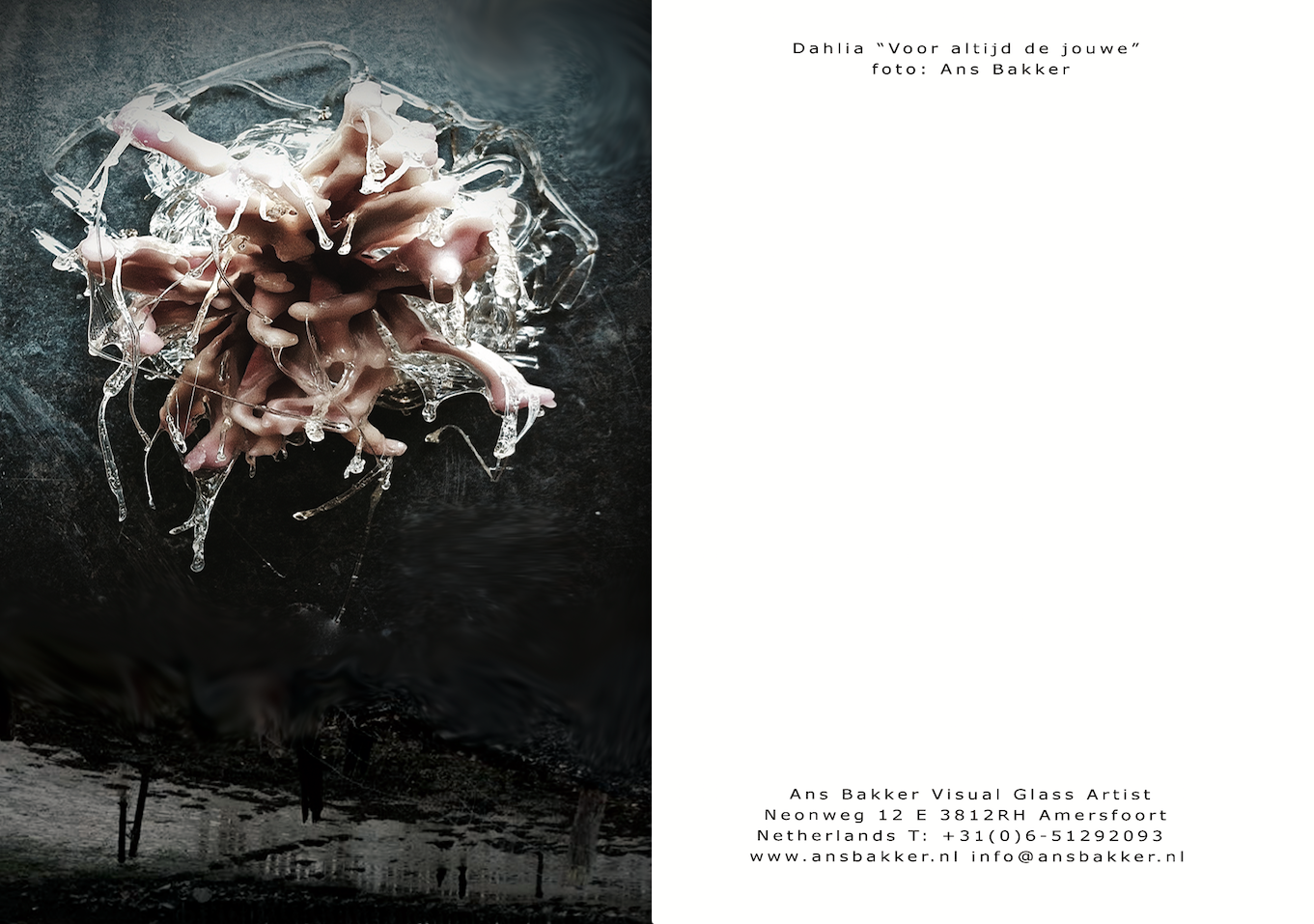 Sweet Sins, Salty Wounds.



Nobody seems awake yet.
I cycle and swim and pick flowers in the Oosterschelde.
God sprinkled salt and seaweed last night.
I am waiting for the water, the rain, the tears of the Goddess of the Sweet Sins.
Sweet sins heal through rain water.
When it finally comes, all the men run outside, each with their finest crockery from our porcelain cupboard .......... 
to fill them with the Sweet Love Streams of the Goddess, who forgives everything.
That is the main task of our men in the village.
We, the women never did the dishes anyway, because salty tears are the healers of the Sweet Sins.
The tides ensure the washing of the laundry and our spirit.
The stay is healing and brings relief.
The oyster pits, where the many children of the village learn to swim, are included in the veins of the Oosterschelde.
They can sit with the back to the Oosterschelde, their DNA is filled with the salt of youth.
I do not and you do not, I have to watch, and watch until I am never satisfied.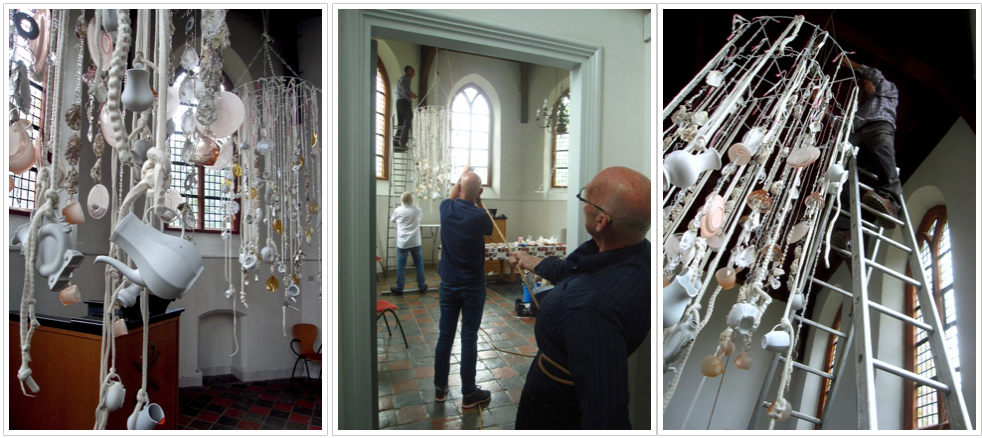 "Sharing Abundance"
That is how the chandeliers of Ans Bakker are called.
For the KunstSchouw 2018 "De Zoete Zonde" I composed this chandelier from different materials. 
The jugs of glass, 
porcelain and ceramics symbolize the sharing of abundance and love. The oysters symbolize life, love and fertility and thus the all-over healing of sin. The parable of the bivalve shell and oyster with the vulva plays a major role in this symbolism. The oysters participate in the magical powers of the uterus. 
In them dwell the creative powers, which flourish as an inexhaustible source from every emblem of the feminine principle. The old Danish word for oyster is kudefisk and kude means vulva. The oyster shell has great appeal on me because of its beauty and its breeding in the Oosterschelde.
The Oosterschelde is a great source of inspiration and always comes back to my work. Because of its colors, softness, healing water and lighting it is an inexhaustible source.

Abundance.
I use the materials purely intuitively, because there is always plenty when I need it. The gathering and recycling of 
as much glass / material as possible that has arisen from excess and is uselessly parked in thrift shops, 
storage cabinets, and demolition containers, has my great passion. I want to give the beauty of all these objects a new life. Even before our utensils are broken or worn, new ones are purchased. I would prefer to hang everything, because then it will get a place somewhere between heaven and earth. Delivered from the earth and not yet ready for their heaven. During the construction of this crown the ribbon sank down one meter and the lower jugs fell. It would
a nice use, to accelerate the symbolism and the reduction of the cycle after each exhibition of a chandelier, 
and to have the material-the chandelier be poured down or handed out. This way every exhibition - 
work brings with it its sequel :) I like to hang it somewhere where this is possible. Tips are very welcome!

There is a huge amount of stuff and we are constantly adding new ones. I too, I also participate in the process 
and increasingly wonder whether the production of new glassware still contributes to society. Will I still compress 
my desires and ideas in an art object? Do I still have to show you what I am doing? For whom do I make this? If you enjoy it, is it okay? Is it not the wonder that I chew you? Is it the wonder that I and we are always looking for?
"More is never full"
It never stops, I noticed. It is never enough. "Aunt Trijn" our accountant who used to work with us in the shop at 
home every day, where we sold lighting and music, always said: "More is never full" I always saw a little lake in front of me, a kind of Grevelingen lake, that never been filled to the brim. Later I only understood her expression: More is never full !! When do you see that it is enough? As a result of these images, which occupy me, texts are created that inspire me to make new work. Clarity is often left over afterwards. I would like to pass on these words:
Where love shows up, there is plenty of everything.
Love is just as much around you as air, you see?
Being under influence - Being in abundance.

Ans Bakker, June 12, 2018.
With thanks to all who contribute to create space and to be who we are.
In the latest Magazine "Glas" there is an intervieuw and nice article about my glasswork. Thanks to Piet Augustijn. For more info about the article and magazine look HERE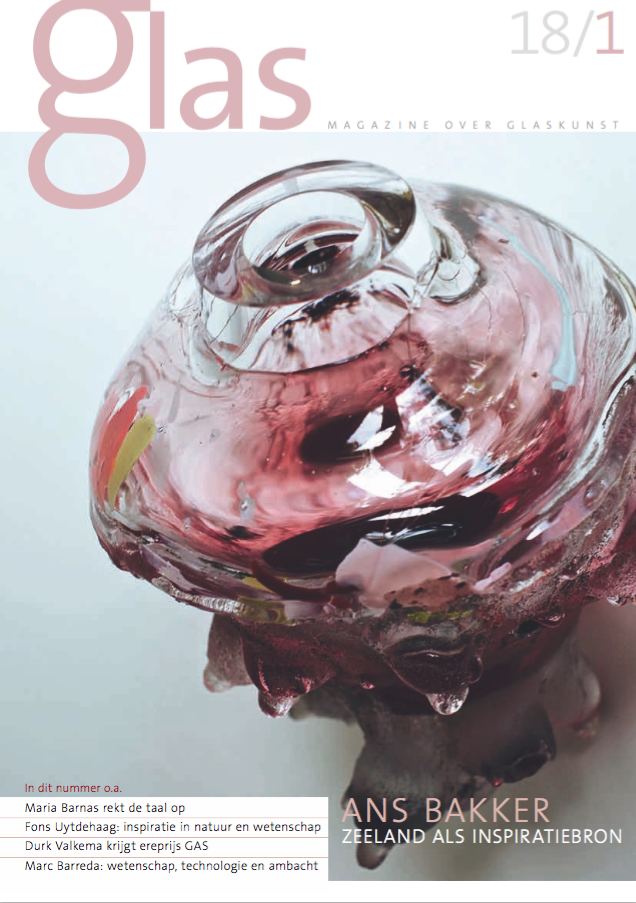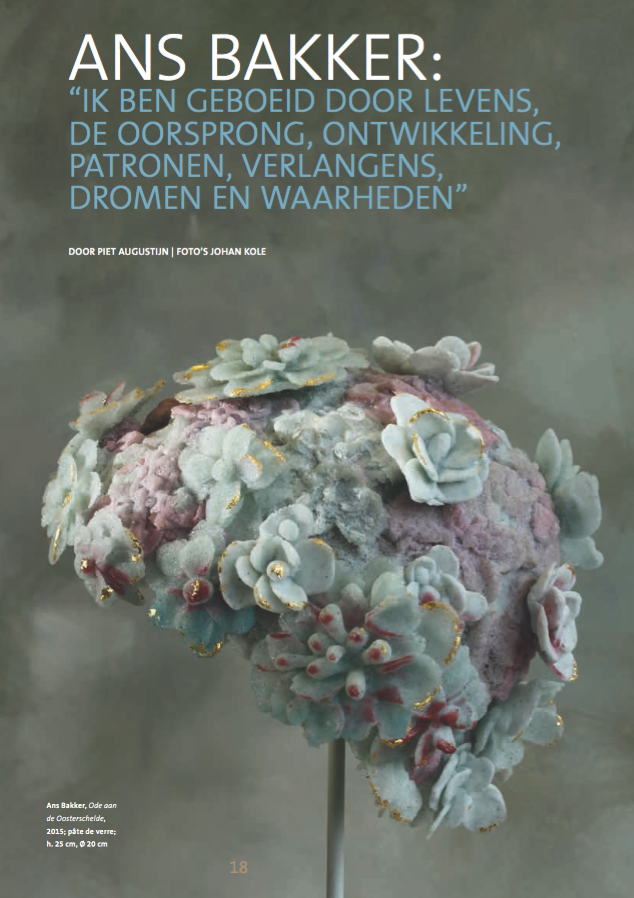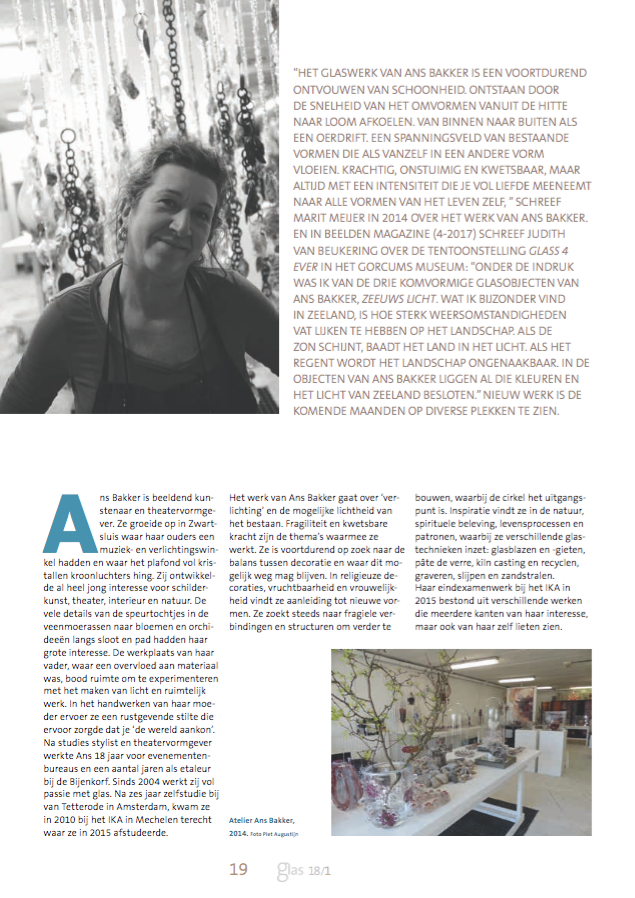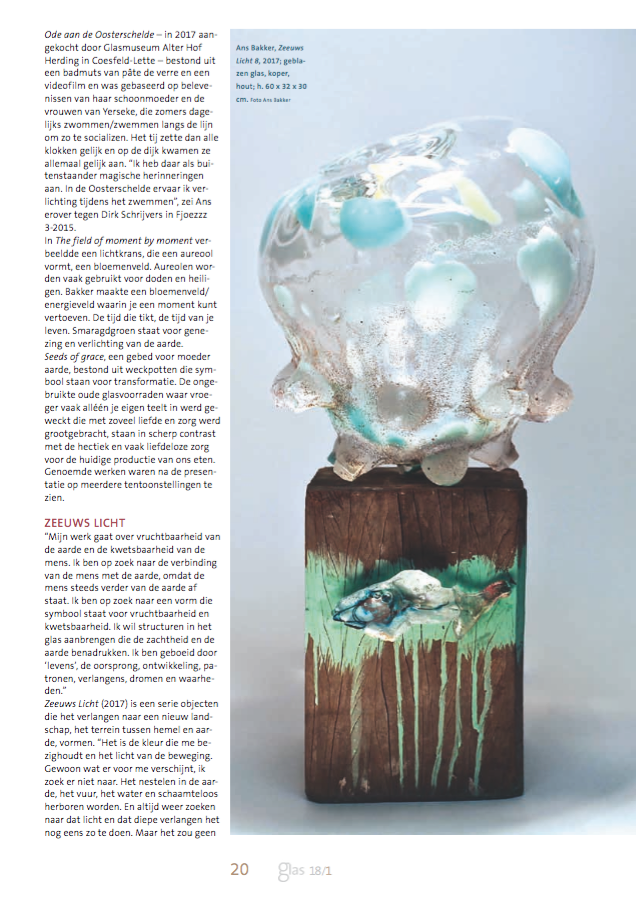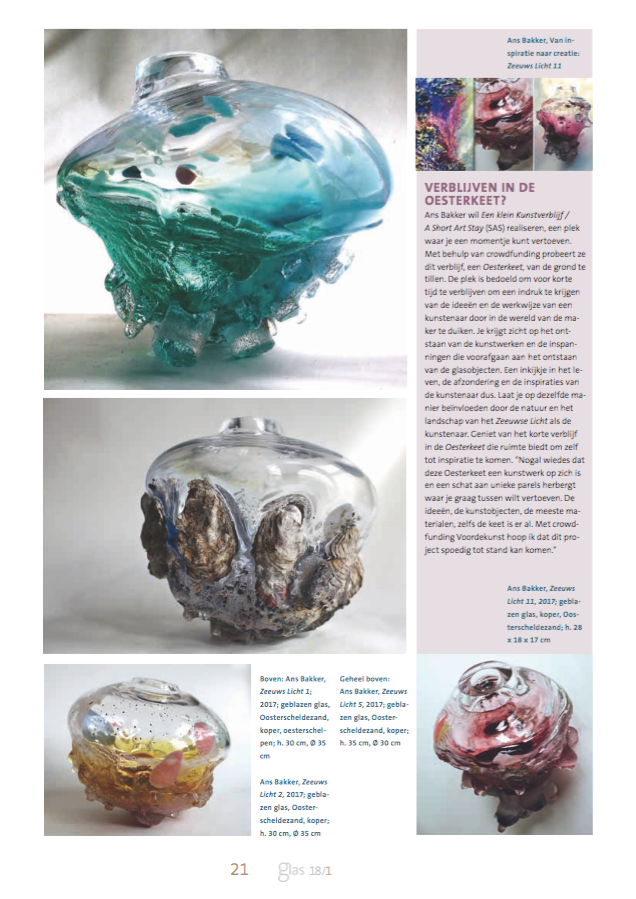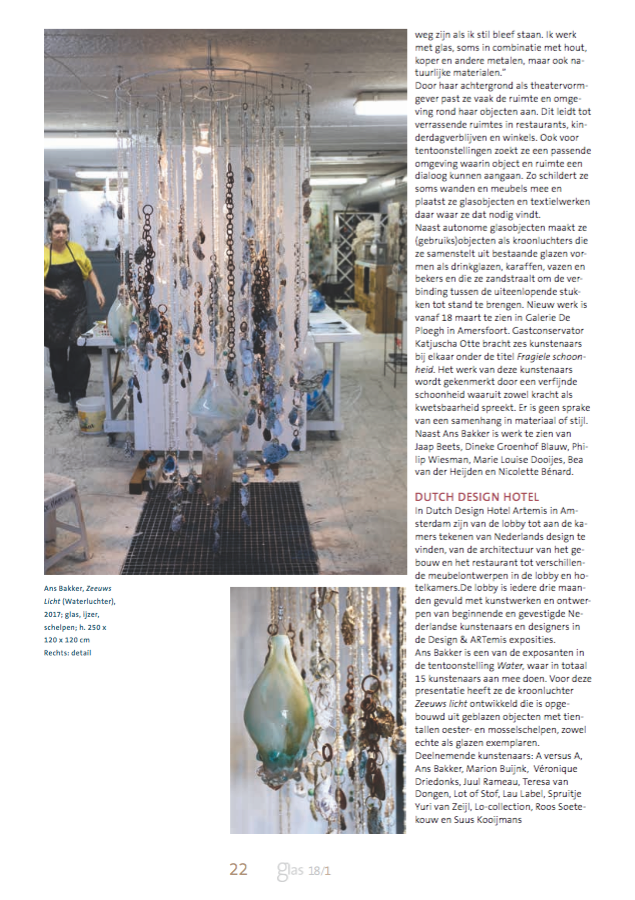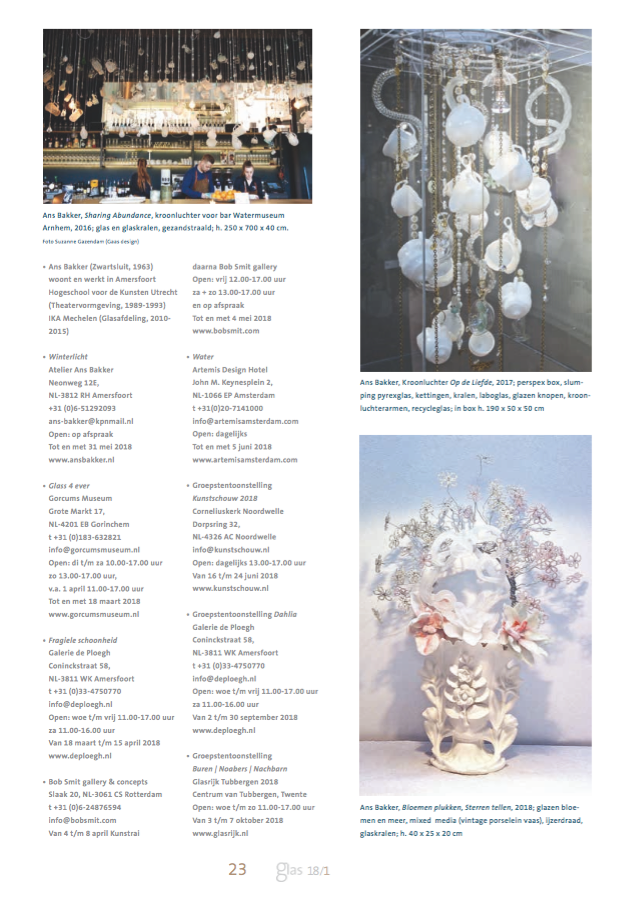 My work "Ode to the Oosterschelde" is been added to the art collection of the Glasmuseum Ernsting Stiftung Hof Herdig in Coesfeld, Germany september 2017.
European Glass context 2016.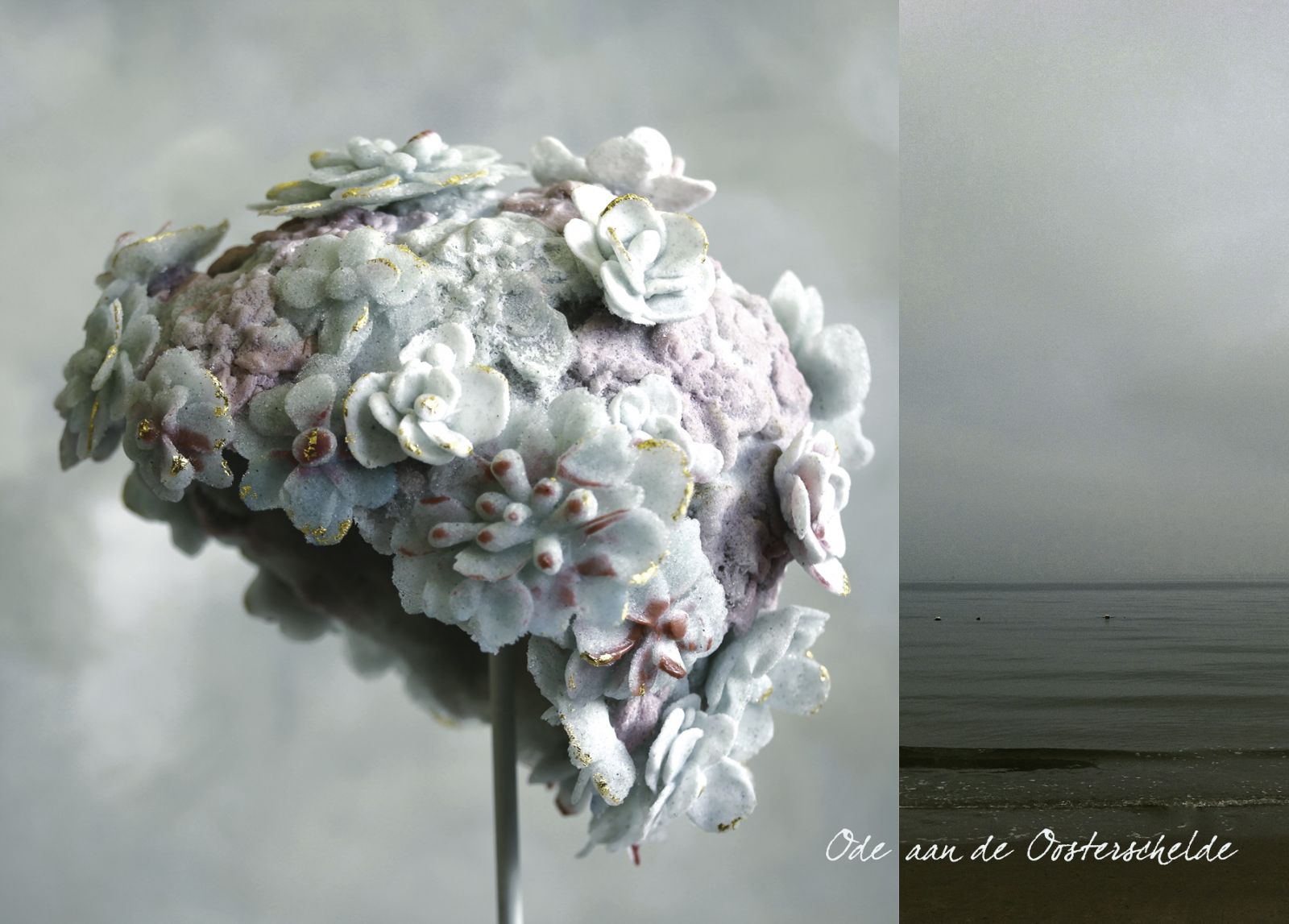 Ans has been selected as the artist to represent Netherlands at the European Glass Context 2016 in Bornholm, Denmark, and chose to submit "Ode to the Oosterschelde" to be exhibited.
www.europeanglasscontext.com

A new Restaurant has opened his doors yesterday :Grand Cafe Aan de Beek at Arnhem, in the Sonsbeekpark. Achandelier with at least 250 glasses and watercans are hangeing above the huge bar. In the space also hang 2 Celestial Nests with watersouvenirs.
15-06-2015 I am Nominated for the Stanislav Libensky Award!! Praag
with my graduationwork from Glass Department IKA Mechelen :(Ode to the Oosterschelde)
Stanislav Libenský is considered as the most outstanding Czech glasswork artist and pedagogist. His works created in collaboration with Jaroslava Brychtová are presented in museums and galleries all over the world. Besides his work, he was teaching at Academy of Arts, Architecture and Design in Prague and he was a director and pedagogist the School of Applied Arts for Glassmaking in Železný Brod where he lived and worked for the majority of of his life.
The competition serves as an international presentation of young glass artists. The aim of the competition is to help the development of glass art in the young scene and to compare different approaches and methods. The initiator and main organiser – the Prague Gallery of Czech Glass – hopes that this competition, followed by a long term exhibition, will help young artists enter the business world and explore the potential of glass. Past iterations of the exhibition featured many excellent works by artists from around 30 countries and 40 universities.
óda na východní šeldu
Moje tchýně a ženy z Yerseke se denně scházely a koupaly podél břehu řeky Východní Šelda.
V čase, který určoval příliv či odliv, se setkávaly na hrázi.
Mě, jako nezasvěceného pozorovatele, pojí s těmito okamžiky magické vzpomínky.
Plavajíce ve Východní Šeldě pociťuji úlevu.
Article in "GLASS IS MORE" Graduates at the IKA 2015 http://www.glassismore.com/core/content.php?&option=viewitem&id=42&rd=1023≤=120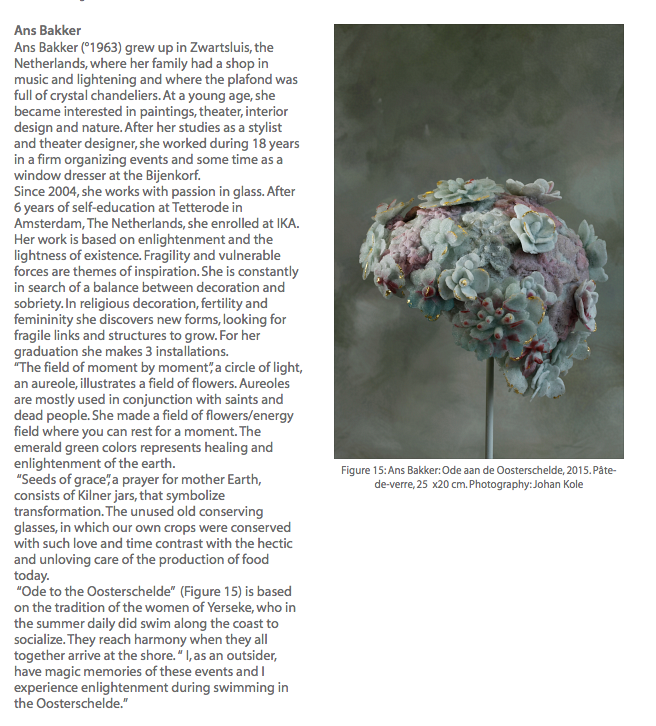 Ans on TV at 29 october 2012, working in het studio at Amersfoort Holland
look here for the short movie:
KOFFIETIJD
http://www.deweekkrant.nl/artikel/2012/oktober/29/ans_bakker_in_koffietijd