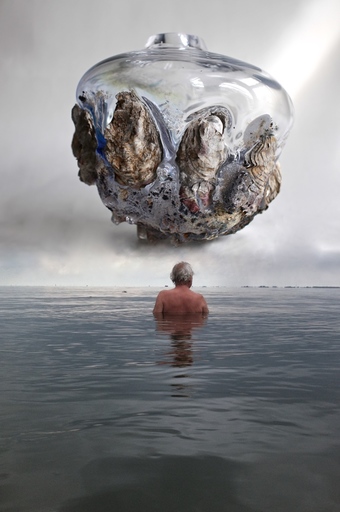 I am delighted to have been selected for the upcoming publication and exhibition: New Glass Now at the Corning Museum of Glass, Corning, New York
12 may 2019 - 5 jan 2020 What a great view and miracle! "Zeeuws Licht no 1"
Press release

"Light of Zeeland"
The longing for a new landscape, the terrain between heaven and earth. It is the colour that occupies me and the light of movement. Just what appears before me, I am not looking for it. The nesting in the earth, the fire, water and being shamelessly reborn.
And always searching for that light and that deep desire to do it like that again.
"But it wouldn't be a way if I stood still" Ans Bakker 2017
'As long as you are not afraid to experience, you can learn to see beauty anywhere'.
Light of live..........

I am fascinated by 'lives', their origins, developments, desires, dreams and truths. I am inspired by the 'light' around persons or props. I use glass, wood, iron, copper and recycled things for my work. 
As a theatre designer I think in terms of images, films and parts of films. I like clear language. Therefore I often create clear images. But I also like decorating, beautifying things, creating an atmosphere. It may take years to finish a series of objects. It is like digging up old fossils. They slowly develop under my hands, sometimes by working, but often by living. I would like to share, like ancient peoples, instinctively. Existing for thousands of years and yet new. Time has been frozen. Time is consciousness. Who needs a watch? 
For photos of these objects, click on 'GALERIE'.

Ans Bakker, born in 1963 at Zwartsluis, Netherlands
1989-1993 University of the Arts Theater Design Utrecht
2010-2015 Higher Degree Glassart(BA), State Institute for Arts & Craft BE)
Ans Bakker glass visual artist |
Neonweg 12E
3812RH Amersfoort
Open by appointment
Neonweg 12 E Amersfoort (free parking on the street.)
Netherlands
M: +31(0)6 51 292 093
E: info@ansbakker.nl
www.ansbakker.nl
Facebook Twitter Linkedin Instagram
photo: Johan Kole. Please respect the copyrights ! and write me an email if you like to blog or use the photo's.©Copyright 2015 by Ans Bakker. All rights reserved. Any reproduction or use of her images from this site is expressly forbidden without permission.